NitrogenSports
This site is well known around the world and has grown into a popular Bitcoin only sportsbook. The business was established in 2012 in San Pedro, Costa Rica. It grew in popularity as they established a position as a reliable bookie that serviced the huge US betting market.
The sportsbook looks & feels different from most traditional sites. The first major change you will notice is the ability to create an anonymous account. When you make one of these accounts, all you need to do is provide your email address and a password to log in. Each account can generate a new bitcoin wallet address that you can use to deposit with.
Deposits are extremely quick and land in your account within minutes. When you place a bet, the confirmation is instant. This is fantastic for when you want to lock in the best odds for your selections. Nitrogen doesn't fall short when it comes to betting options either. Most matches have a huge selection of markets you can wager on. This is great for the bettors that love finding great value in their favorite matches.
Many professional sports bettors love the NitrogenSports site for their large betting limits. They adjust their limits between sports, but you can bet up to 20BTC on certain matches. The site covers all major sporting events including matches from the NBA, NFL, NHL, MLB, NCAA, worldwide football, tennis and more. They even cover less popular markets like e-sports, darts & chess.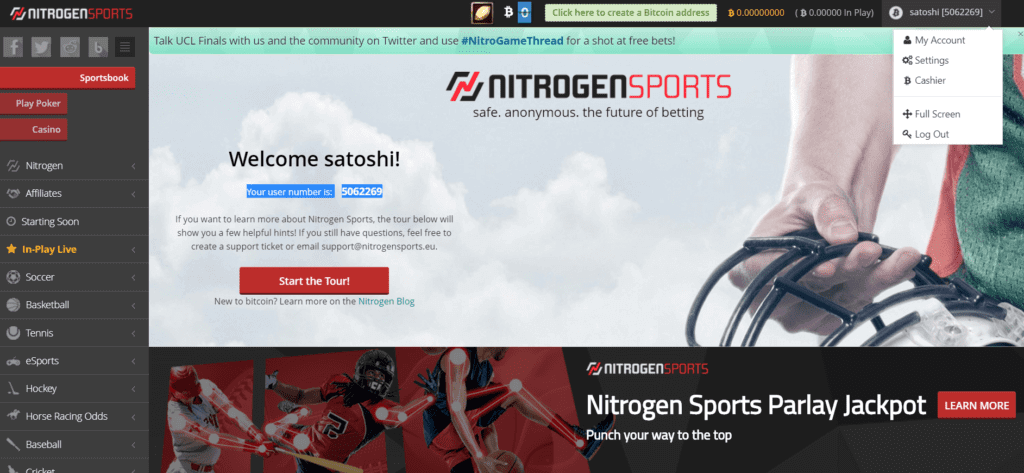 There a numerous online sportsbooks that fall short when it comes to customer service. Nitrogen is not one of them. Their helpful team is available via live chat and through a support ticket system. The company aims to keep its punters happy and are there to lend a helping hand.
The only major drawback for this sports betting site is the lack of promotions available. There are definitely other sportsbooks that are a better option if you're looking for deposit bonuses, reload bonuses or other promotions. Due to the nature of running an exclusive Bitcoin operation, the team at NitrogenSports would need to protect themselves, and their customers from abuse & fraud. As bitcoin is an anonymous currency, they would become the target of shady characters creating multiple accounts in order to secure free bonus funds.
They do offer a unique 'Bad Beat Second Chance' jackpot. If you missed a parlay bet by one selection then you are eligible for a percentage of the prize pool. This can be a great mood booster after just falling short on your bet. If you're after a solid welcome bonus, we recommend checking out Bodog.
We recommend checking out NitrogenSports for their amazing layout, anonymous accounts, super fast transactions, and attractive betting limits. The site is different from the rest on our list, but this is a good thing and makes Nitrogen a unique and desirable alternative compared to the run of the mill standard sportsbooks.