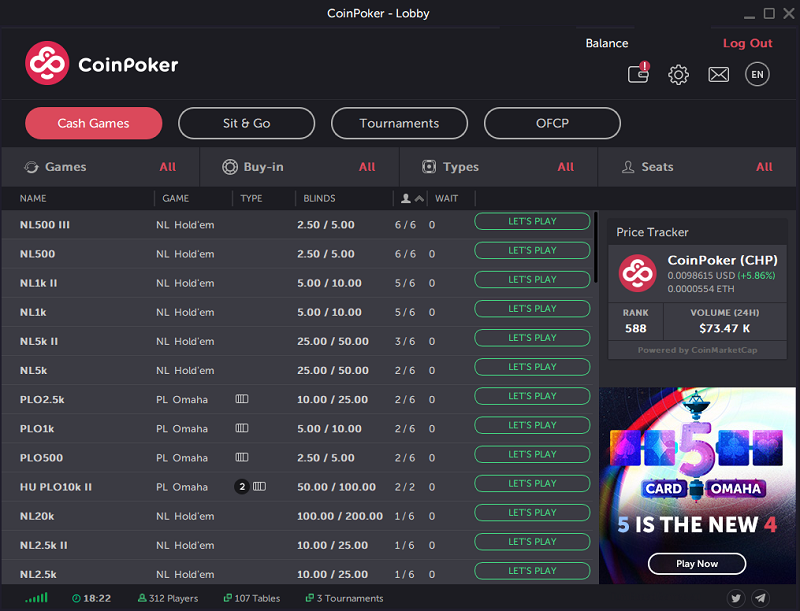 CoinPoker Review in 2022
CoinPoker is an established online poker room that uses their own cryptocurrency called CHP. They were founded at the start of 2018 and aim to bring poker to everyone on the globe using cryptocurrency & the blockchain network to provide a safe & fun playing environment for all.
The site has gained momentum and is growing in popularity. Poker players from around the world will appreciate the well designed software, smooth game play and access to poker from any country in the world. Players have a choice of depositing & withdrawing in Bitcoin, Ethereum or CHP. When we started our CoinPoker review we were really pleased with the overall platform they provide and highly recommend it to any poker fans out there.
[flytonic-button text='Play Now' linkurl='https://bettingparlour.com/visit/coinpoker' size='med' icon='none' bg_color='red' border_color='normal' text_color='lgt']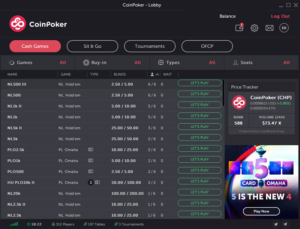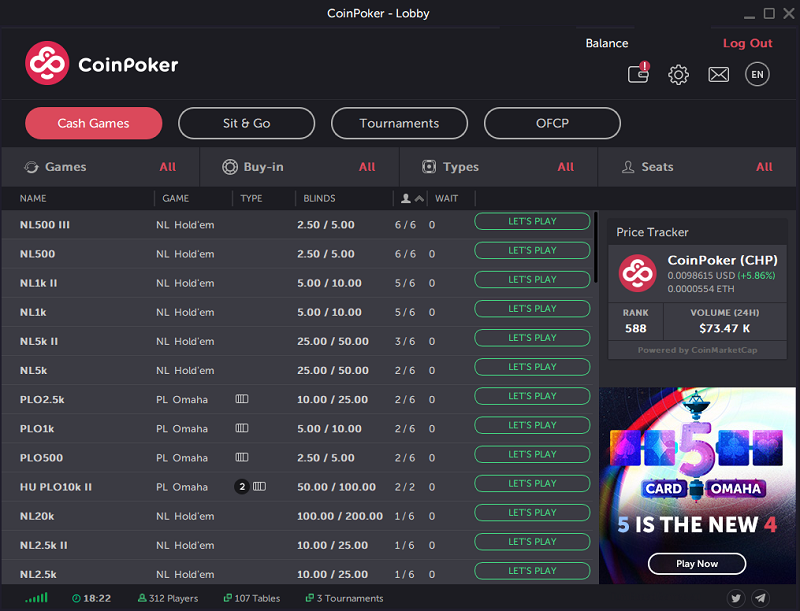 The platform now accepts deposits in CHP, ETH, BTC, and USDT. They use the universal USDT currency for poker games now, which makes it easier to keep track of games.
CoinPoker Welcome Bonus
CoinPoker has a unique welcome bonus to get new players excited about their platform. It's super easy to claim your bonus, just follow these steps.
Download CoinPoker for your device
Play some Freerolls and build up your bankroll (or make a deposit with most popular Crypto currencies including BTC or ETH)
Play a few cash games or tournaments and contribute 100 CHP to community
Next week you'll see your balance updated with 1,000 CHP.
Click the button below to sign up and get access to online poker from anywhere. We'll see you at the tables.
[flytonic-button text='Play Now' linkurl='https://bettingparlour.com/visit/coinpoker' size='med' icon='none' bg_color='red' border_color='normal' text_color='lgt']
Who Can Play CoinPoker?
Online poker has often been met with harsh restrictions & legislation in different countries. Coin Poker provides a unique platform that accepts poker players from all corners of the globe. By using cryptocurrency for banking, they are able to offer services in countries where traditional banking methods wouldn't usually allow them to.
CoinPoker Unique Features
Get quick & easy access to poker with the Coin Poker desktop software or mobile/tablet app.
The CoinPoker community is active & growing daily. Join in the discussion and make new friends in the Telegram & Reddit channels.
Unique promotions including a Tesla give away, 100's of ETH in prizes and over 10 Million CHP are just some of the awesome ways CoinPoker rewards their loyal players.
Their custom decentralized RNG provides a 100% provable fair shuffling of the cards. This ensures a fair & level playing field for all players.
Keep your CoinPoker account secure with CIVIC Two Factor Authentication.
CoinPoker Game Variety
Cash Games
The action is available around the clock at CoinPoker with a wide variety of cash game tables. The cash games can be played in either Heads Up (2 Max) or six player (6 max). This fast paced game environment will be welcomed by many professional poker players. The stakes are great for recreational players as well, starting at 2.5 CHP/5 CHP and going all the way up to 2,000 CHP/4,000 CHP.
The game variations available to play at cash tables are No Limit Hold Em, No Limit Short Deck, Pot Limit 5 Card Omaha and Pot Limit Omaha.
Sit & Go Games
Sit & Go games have recently been added to the sites poker schedule. Stakes for this game type start at 0, this is the regular Flyby Freeroll with 500CHP guaranteed. The next levels are 200CHP games and the stakes go all the way up to 60,000CHP for the high rollers seeking the most action.
The game variations available to play in Sit & Go are No Limit Hold Em, No Limit Short Deck, Pot Limit 5 Card Omaha and Pot Limit Omaha.
Multi Table Tournament Games
CoinPoker has done well to establish a regular Multi Table Tournament schedule so players can jump in and verse others at any time of the day. They have a great selection of regular free roll events so players can learn the platform, improve their technique and game play and aim to win more CHP and grow their bankroll.
The regular money tournaments start with an entry of 250 CHP and go all the way up to 25,000 CHP for entry to the Sunday Andromeda 500,000 CHP GTD tourney. As with most poker sites, the most action for tournaments is on the weekends, particularly Sunday. If you play MTT games on other sites, then we think you will enjoy testing the water at CoinPoker.
No Limit Texas Hold Em
No Limit Texas Hold Em is perhaps the most popular and well known form of poker. It's commonly played at casinos & all online poker rooms. Most of the games on CoinPoker are based on this variety of game, however they do have a great selection of other game types for players to enjoy.
Texas Hold Em involves the player being dealt two cards. Then the community cards come out, three cards go to the middle of the table to start, this is known as the flop. After a round of betting, the next card is added to the middle, it's called the turn card. After another round of betting, the fifth & final card is dealt, it's called the river. A final round of betting is done, and whoever is left in the action with the strongest hand, wins the pot.
Pot Limit Omaha (PLO)
Omaha poker is another popular game type that is played regularly online. CoinPoker have a great selection of PLO games for players to grind in. Players are dealt four cards and the dealer puts five community cards in the middle of the table. Each player must make the best possible hand using two of their cards and exactly three of the community cards. The size of bets is limited to the size of the pot. As there are more cards in play in this game style, the action can be quite intense. Sometimes it can be a bit trickier to bluff, when compared to No Limit Hold Em.
Open Faced Chinese Poker
Open Faced Chinese Poker is a unique style of the game. It is usually played in a two – three person game, but can be played with up to four people.
All players must use thirteen cards. Their hands are made up of three cards in the front hand, five cards in the middle hand and five cards in the back hand.The player to the left of the dealer starts first. The game works just like normal Chinese poker. The back hand needs to be better than or equal to the middle hand,and the middle hand must be better than or equal to front hand. The back & middle hands are able to make the best hands possible in five card poker, while the front hand can make the best possible three card hand (eg. Best three card hand = 3 Aces)
This game can be a little tricky to understand but you can read this Wikipedia article to get a better understanding.
Banking & Security
This poker room works with cryptocurrency only. Players can deposit & withdraw using Bitcoin (BTC) Coin Poker Chips (CHP) or Ethereum (ETH). These are three very popular methods, that are relatively easy to learn and use. It is a bit of a different setup when compared to traditional online poker rooms, but once you understand the process and see the benefits of the platform, it's well worth the effort.
You can acquire Bitcoin & Ethereum from popular crypto exchanges like Coinbase, CEX, Changelly, LocalBitcoins, Gemini and more. Be sure to read reviews and make sure the exchange accepts people from your country. Once you have some BTC or ETH you can send that directly to your CoinPoker deposit wallet address. This can be found in the Cashier section of the software. Transactions are usually processed very quickly, and you can check their progress on the Blockchain.
When you've had a nice win at the tables and you're ready to make a withdrawal you can go to the Cashier section and click the withdraw tab. You can select to withdraw in either BTC, CHP or ETH. We recommend creating a free wallet at Blockchain.com to withdraw your bitcoins to. Or a free Ethereum wallet at MyEtherWallet.com to withdraw your CHP or ETH. Enter your wallet address and click submit to have your withdrawal processed.
[flytonic-button text='Join Now' linkurl='https://bettingparlour.com/visit/coinpoker' size='med' icon='none' bg_color='red' border_color='normal' text_color='lgt']
Customer Service
CoinPoker take their customer service very professionally. Within the desktop software/mobile app there is a dedicated 'Support' section where you can submit General questions, Technical Issues, Deposit issues or anything you may need some clarity on. The customer service team is also easily reachable via the CoinPoker telegram app. They also have an email address if you wish to communicate that way.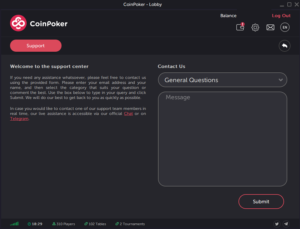 [flytonic-button text='Play Now' linkurl='https://bettingparlour.com/visit/coinpoker' size='med' icon='none' bg_color='red' border_color='normal' text_color='lgt']